All You Need To Know About Google Web Stories
Gone are the days when stories were limited to personal interactions. In October 2013, it was first started by Snapchat. In August 2013, Instagram adopted the same feature that we relish today. A year later, Facebook joined the bandwagon and by 2018, YouTube stories took over too. You must have already guessed what we are building up to. But let us say it anyway. Since all the tech giants were making the most of this prominent feature, in 2020 Google Web Stories too became a thing.
Digital evolution has always been a gamechanger for existing as well as new businesses. Let's take Instagram for instance. The arrival of Instagram stories as another type of content on social media was labeled as plagiarism at first and yet people wasted no time flooding their profiles with stories. Do you know why? Because the act of sharing stories and narratives had finally gotten a place on this mainstream social media platform. This is something that did not change even after the arrival of Instagram reels. In fact, people integrated video content into their marketing strategy as a new form of storytelling by using Instagram reels.
Given the power of storytelling in today's marketing industry, it only seemed fair for Google Web Stories to come into the picture.
What are Web Stories on Google?
Just like stories on social media platforms, Web Stories on Google is an interactive feature that has pictures and videos posted by the creators. Any individual with a website can host Google Web stories.
Who knew someday Google will have Instagram-like stories? Google Web Stories has been able to leave a mark on the viewers as it enables the brand or creator to share their ideology, narratives, and updates on a search engine.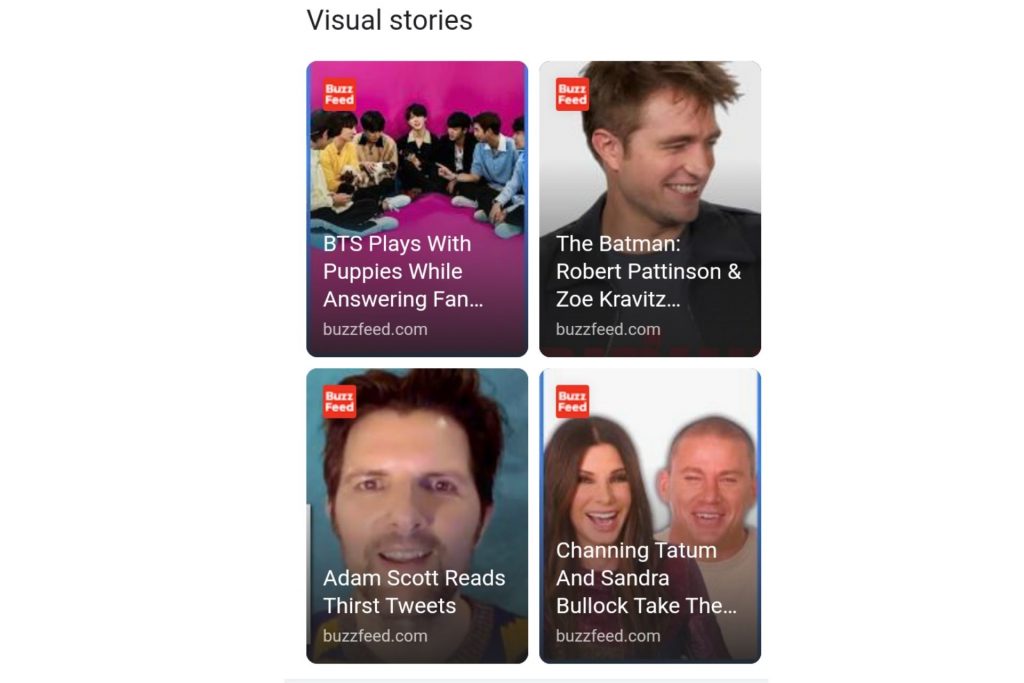 Where do Google Web Stories appear?
Google Web Stories can be enabled over multiple Google platforms and various devices.
Google Web Stories can be enabled by the brands and creators on their websites to cater to their visitors.
They can also be displayed on Google Images and the Google Discover App.
Publishers can extend the use of the Google Web Stories by displaying them on other web assets like emails and brochures.
Google Discover
Web Stories can appear on Google Discover in the form of a carousel or single stories. This is available on Android and iOS via the latest Google app. The carousel is available in the United States, India, and Brazil.
Google Search
On Google search, the web stories appear in the grid format. Depending on the search, the grid will display relevant stories for the respective keyword. For example, if the search says, 'things to do in Mumbai' then the grid format will include responses related to that.
Google Images
Web stories appear in Google Images in the form of imaged cards. However, they have an icon that can tell users the difference between a Google image and Google Web Stories.
What makes Google Web Stories different than social media stories?
One of the most significant differences between Google web stories and Instagram stories or any other social media stories is that the former lets the creators publish stories on their particular website. However, social media stories are posted on the platform.
Chances are that since the creators are posting stories on their personal websites, they do not have as many restrictions on this search engine platform as they have on social media platforms.
How to create Google Web Stories?
To create Google Web Stories you can use any visual editor and then publish it. You need to keep the following things in mind to create successful Google Web Stories.
Make sure you use the right visuals that align with your brand.
Begin with a storyboard before you build the creatives and add the content.
Always create a story with a beginning, middle, and end.
Align your web stories with the AMP specifications.
What tools can you use to create Google Web Stories?
WordPress Plug-in
This is a Web Stories by Google plug-in that allows you to create Google Web Stories from within your WordPress website's CMS.
2. Newsroom AI
You can use the free version of Newsroom AI to create Google Web Stories using the existing template. You can also embed the stories on your website as well as get the analytical report to track the performance of your stories. Newsroom AI makes creating and editing content for Web Stories very easy as it offers multiple features for brands, content creators, or content managers.
3. Make Stories
Make Stories is another third-party platform that offers easy to comprehend and efficient features to create Google Web Stories. One can also integrate this with their WordPress.
If you do not have a team of coders or engineers, then these third-party platforms can help you create and publish Google Web Stories.
What type of Google Web Stories can you create?
Your Google Web Stories can revolve around the following content types:
News
Tutorials
Travel diaries
Interactive stories
Comics
Informational
Topical
In this social media-dominated era, it's time to jump back to the Web and use it to its full potential. It will help your brand get discovered and reach the relevant audience. It enhances the user experience and keeps the visitors engaged with your website. With Google Web Stories, you can be creative and offer an immersive experience to your audience.