How To Submit A Campaign Brief On WORD Marketplace
What we know of influencer marketing, in general, is that it is very beneficial and requires multitasking. And it is true. Now, while the first one is quite an encouraging factor, the latter often puts people in a strenuous state. It takes a lot to run a business and while social media amplifies the benefits, it also needs an equal amount of input.
Influencer marketing has emerged as a go-to marketing strategy for all businesses. Ever since the beginning of it, this sought-after marketing tool has gone through many transitions but its impact remained strong as always. In a way, influencer marketing is like seasons. It's every changing but certain things remain the same. It took brands to figure out how to deal with this newly found impactful social media strategy. And eventually, it was decoded and not only widely appreciated but also widely used.
But some brands still struggle to wonder how to go about it. Do you too wonder how to plan an influencer marketing strategy? You are aware of your goals, you have clarity about what you want, and even know which influencers you want to work with, but don't know how to approach them with your plan? It's not that difficult. All you need to do is create a campaign brief.
What is an influencer marketing campaign brief?
An influencer marketing campaign brief is an outline of work expectations set by your brand for your influencers. This is what tells the influencers about your expectations, scope of work, and deliverables.
Depending on your goals and functions, you can share a campaign brief to an on-board influencer, a potential influencer or even use it to pitch to an influencer, It can be used under different circumstances but serves the sole purpose of on setting the bond between you and the influencer by outlining the goals, strategy, and deliverables from your end.
Why do you need an influencer marketing campaign brief?
The purpose of a brief is to provide guidelines for work for both the influencer and the brand. It helps both the parties stay on the same page. The reason why you need an influencer marketing campaign brief is so that the scope of work is clear. When you provide the brief it marks for the beginning of the project and the influencer's creativity will be focused to adhere to it. A brief lays the foundation of communication between you and the influencer. Hence, you must make sure to create a good campaign brief.
How to write a perfect marketing campaign brief?
While it doesn't take much, it does take some level of accuracy to write a perfect influencer marketing campaign brief. There are a few points that you can consider to write a brief that can help you in the long run for any kind of campaign.
Campaign summary
As the name suggests, a campaign summary is an accumulation of project information. There are chances that this is the first interaction between you and the influencer. Or it is the campaign brief that will encourage the influencer to work with you. Hence, try to keep the communication creative and significant to your brand. It can be formal or informal, it can be anything that you want the influencers to perceive you as. The campaign summary should be able to communicate your expectations to the influencers.
Metrics
Metrics are your system of measurement. In the social media business, metrics can include the number of followers, likes, comments, engagement rate, clicks, conversions, etc. These metrics set your goals and ensure to be specific about them.
Deliverables
Deliverables are the result of projects that you expect. When preparing an influencer marketing campaign brief, you need to state the service you require from them. It can be in the form of posts, captions, tags, hashtags, blog posts, or videos. For instance, your deliverables can include a 100-word Instagram post reviewing the product or an unboxing video. Depending on your goals you can state your deliverables.
Timeline
Timelines and deadlines are very important. And when setting the timeline, you have to consider the revision time and feedback time as well. If your campaigns are festive specific then it is important that you comply with that as well. A lot can happen before the campaign goes live. So considering all of that and mentioning the same in your brief is necessary.
Important notes
These important notes are the mandatory elements that you cannot miss. It can be with regards to the choice of words, the outfits, the production, the post-production, or setup. If you want the influencer to create the caption and video script, you can give them the do's and dont's if there are any. Or you can prepare them yourselves. Every important direction, inclusions, and exclusions are a part of your important notes.
CTA
Every campaign aims at making the user take an action. It can be liking the post, commenting, sharing, or clicking a link. That has to be specified in the campaign brief as the influencer will create the content accordingly. This should be very specific in campaigns that involve signing up for a newsletter or participating in a contest.
Disclosure Guidelines and Legal Terms
The disclosure guidelines and legal terms are extremely necessary and cannot be missed. You need to be as specific about it as possible. Also with respect to the reimbursements and settlements, you should try to keep it as simple to understand as possible so that there are no issues later.
Since now you know what it takes to create a good campaign brief, now all you need to do is find an influencer marketing platform to post it and get started. If you want something very simplified and free of interference, you can use WORD Marketplace. It enables you to reach out to influencers by yourself and seal the deal without any middlemen.
Here's how you can submit an influencer marketing campaign brief with WORD Marketplace.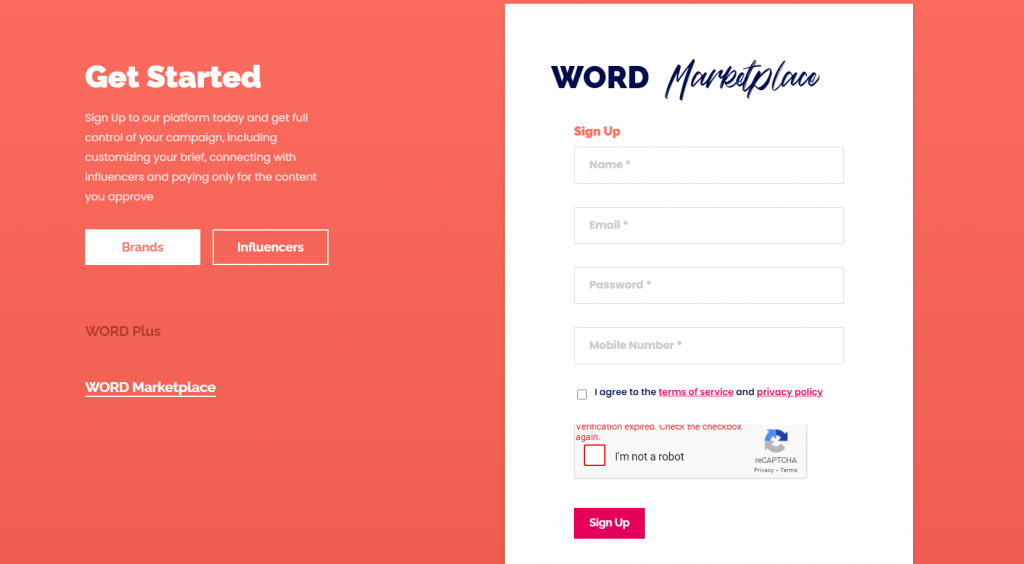 Sign up
All you need to do is sign up for WORD Marketplace on its web page using your email address and contact details. This is all it takes to enter the WORD Marketplace which further lets you take control of your influencer marketing campaign.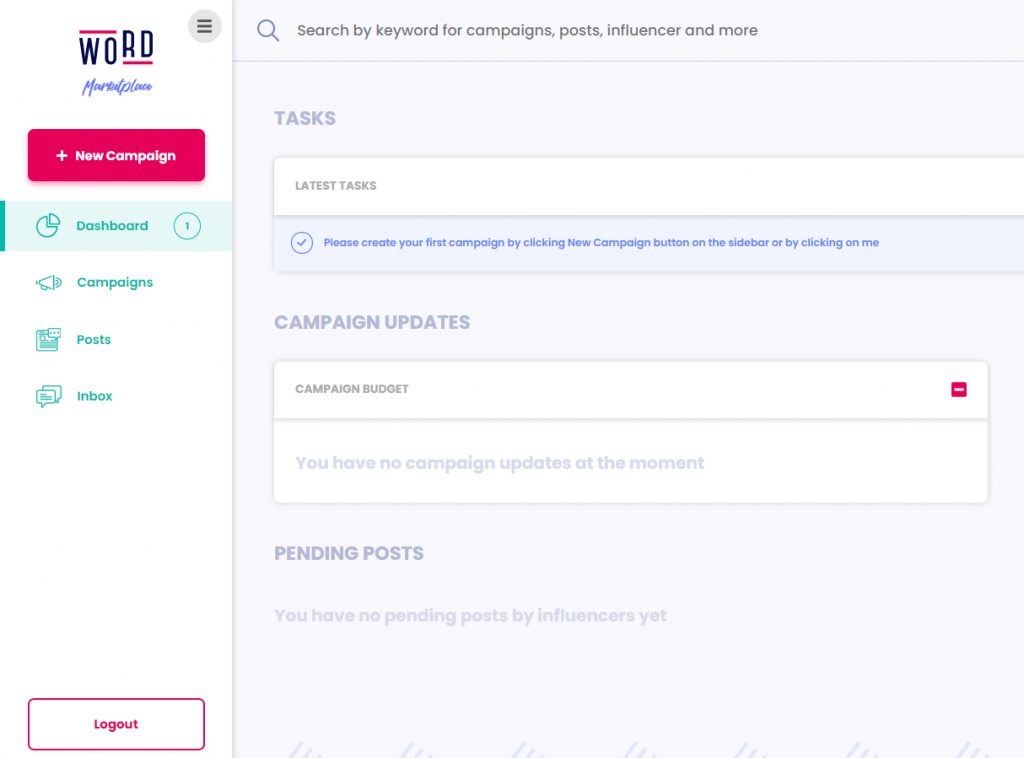 Submit a brief
Using the above guidelines, prepare a brief for your campaign and submit it on the portal. This brief will be visible to all the influencers on the WORD Marketplace platform. Once they see your brief, they can decide if they want to work for you. Depending on the specifications of your brief, you will attract only credible and relevant candidates. That's a big time saver.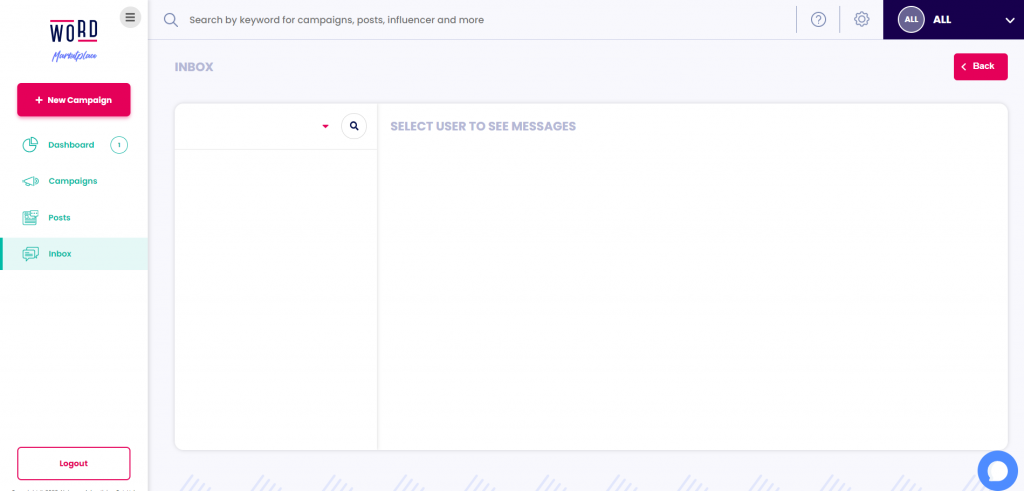 Connect with your influencer directly
Once you receive the entries and their content, you can decide which one would you like to work for depending on their submissions. You can speak to them directly and set the deal on your mutual terms. Everything right from the beginning to the end of your campaign will be controlled by you.
Approve the content
You can choose your influencers and set the content for your campaign. You can make revisions until you get content that stands your expectations.
Pay after approval
You make the payment once the final content is approved directly to the influencer. You do not need to pay for anything more or less.
Check the performance of your campaign
WORD Marketplace dashboard lets you check the performance of your campaign for as long as it is live. It helps you evaluate the results easily.
In simple steps, you can make a campaign brief and with even simpler steps provided by WORD Marketplace, a leading influencer marketing agency, you can find influencers for your campaign and even lead a successful one.