Top Skin Care Influencers in India 2021
Skincare and beauty have started trending in the past years more than ever. They are not focused on looking a certain way or changing your identity. But instead, it is about working towards attaining healthy skin that is treated well. If you thought that skincare means lathering multiple things on your face in order to change your skin tone or reform your whole appearance, then probably you are doing it wrong. So how is it done right then? Well, we are no experts, but we know some influencer friends you definitely are.
Skincare and beauty are about going beyond just moisturizer and sunscreen (although, don't forget you do need that SPF and definitely need to keep your face hydrated). But that is not it. To understand skincare you must understand your skin. Looking up a skincare routine on the internet and blindly following it might not get you the right results. It is a process that takes time and it is a journey in which you consciously find what is good for your skin.
These top skincare and beauty influencers in India are here to tell you all about it. They are aesthetic, educational, practical, and very reasonable influencers. Let's learn skincare, shall we?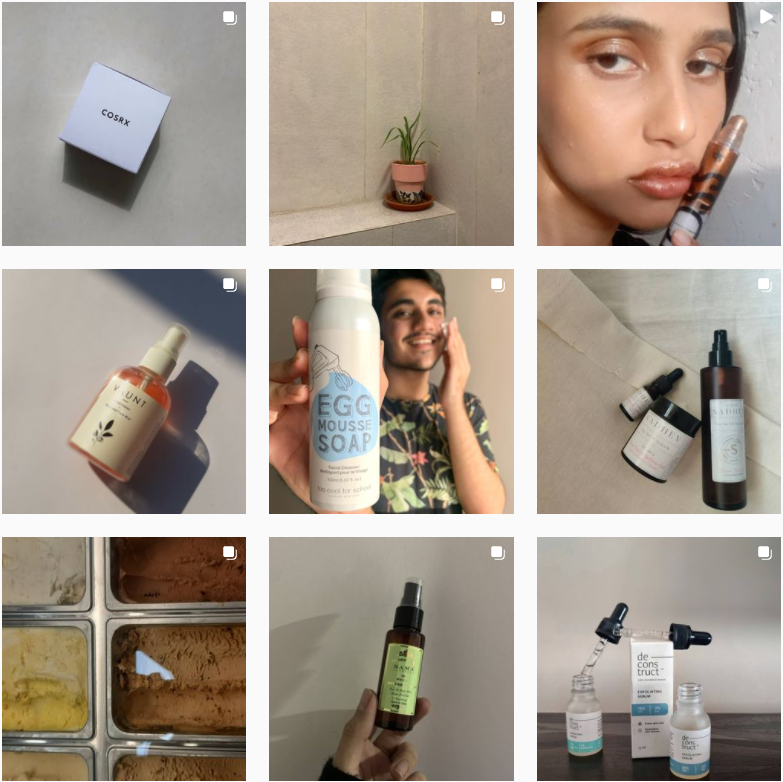 Raisa and Rehan are two medical students who are on their journey to reform skincare in India. Their Instagram handle is lethatserumsinkin. We must say that we stan a name that is the ultimate skincare motto. On their page, you can expect to see more independent content compared to sponsored posts. Not because they are micro-influencers. But because they stan for quality and prefer to try the products themselves first to analyze the results before they suggest it to their Instagram followers. 
Their skincare advice revolves around many different skin types and is centered around the Indian audience. The moment you land on their page, you will find everything that you have been looking for, believe us.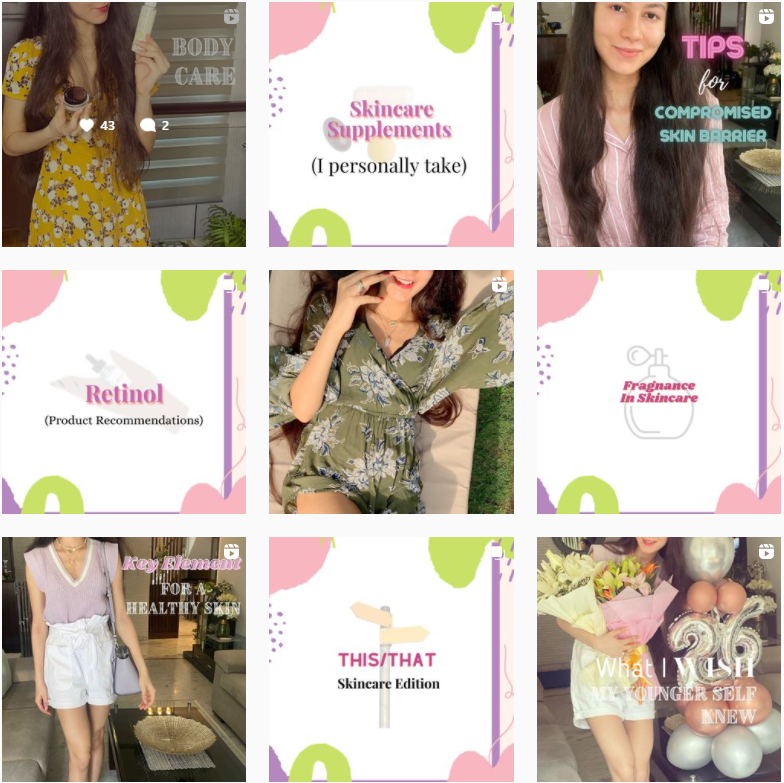 Does this ever happen to you that you look at someone and immediately think, "Damn, I need your skincare routine!" Well, when you look at Sreeja, you are going to feel the same. Sreeja runs an Instagram page by the name skinoreal and she is one skincare influencer that you must follow. Why? Because more often we hear skincare and beauty bloggers tell us all the things that we need to do. Sreeja also focuses on telling you things that you are not supposed to do. She is a professional and knows how to walk you through the skincare world seamlessly. 
There's a lot you can learn from her and you can also book an appointment with her. Moreover, you can also check out her blogs which focus on being informative and bursting myths about skincare stereotypes. And if you are looking for something more, then you must definitely check out her YouTube channel.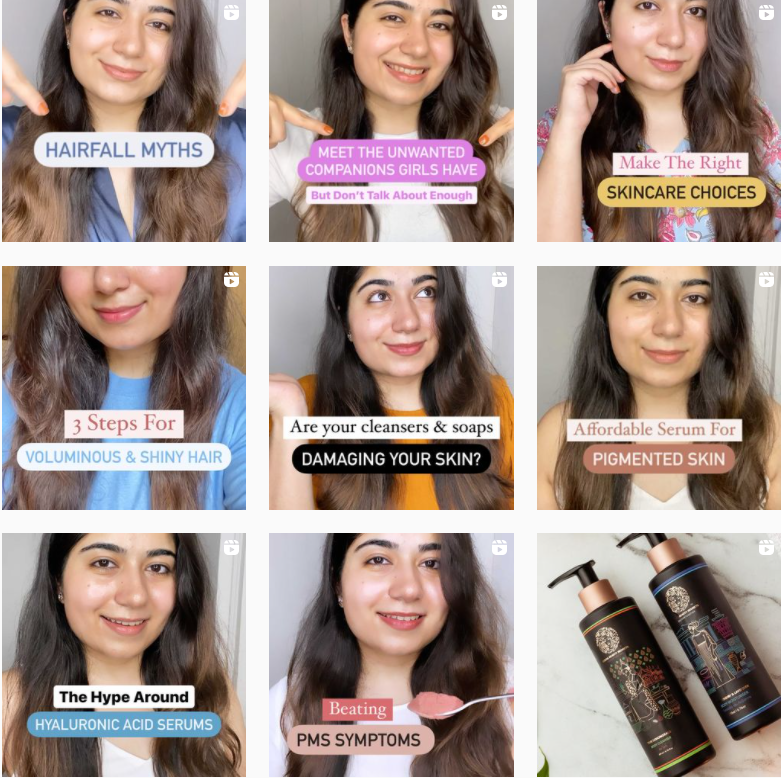 When you are really into skincare you are bound to have questions about various products and processes. And if you are a beginner, you might struggle to find the answers to it. We suggest that instead of relying on Google, go give Niyanta a follow on her page beautypost.in. She not only recommends the best skincare and beauty products but breaks down their purpose and uses for you. Understanding what skincare product you are using is as important as understanding why you are using it in the first place and Niyanta tries to explain it all to you through her content.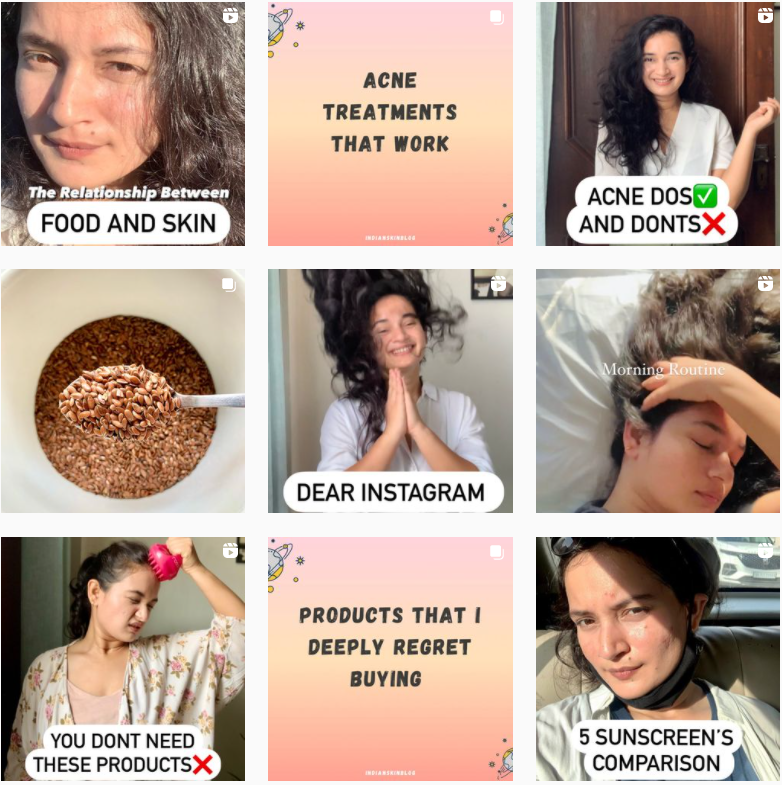 Most people today are so inclined towards skincare that they almost annul the idea of haircare. But let's bring that back. Aishwarya here runs an Instagram page by the name indianskinblog and she is very inclined towards giving you haircare tips and regimes. She recommends products that you should use depending on different hair types. If you are someone with wavy hair who finds it uncontrollable to take care of your hair, then Aishwarya can definitely help you get through it. Besides that, her recommendations are about all hair types. She also talks about skincare products that are good for you, that you should keep repurchasing, and the ones that you must never buy.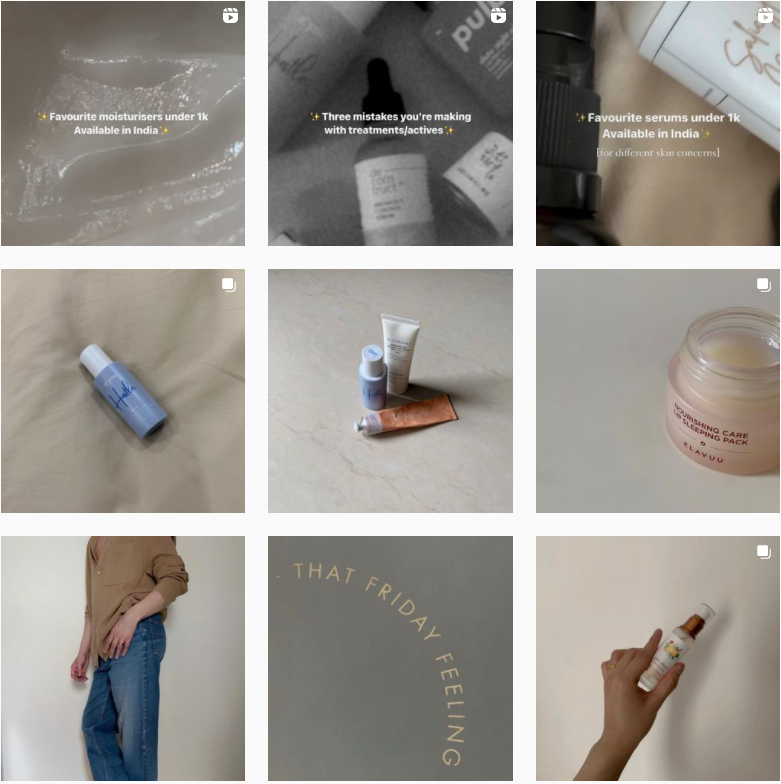 Does this ever happen to you that you read some really heavy terms about skincare and you are impressed by it because it seems complicated and you think that it might work? Well, Yash here is about to give you some clarity on that. His mini-blogs on his Instagram page yashwantsngh explain these skincare terms in detail. For instance, you can learn about double cleansing, Retinoids, skincare products, and different skincare concerns. To understand skincare you need to know the significance of it as well as the products and processes involved in it. Yash can definitely help you with that.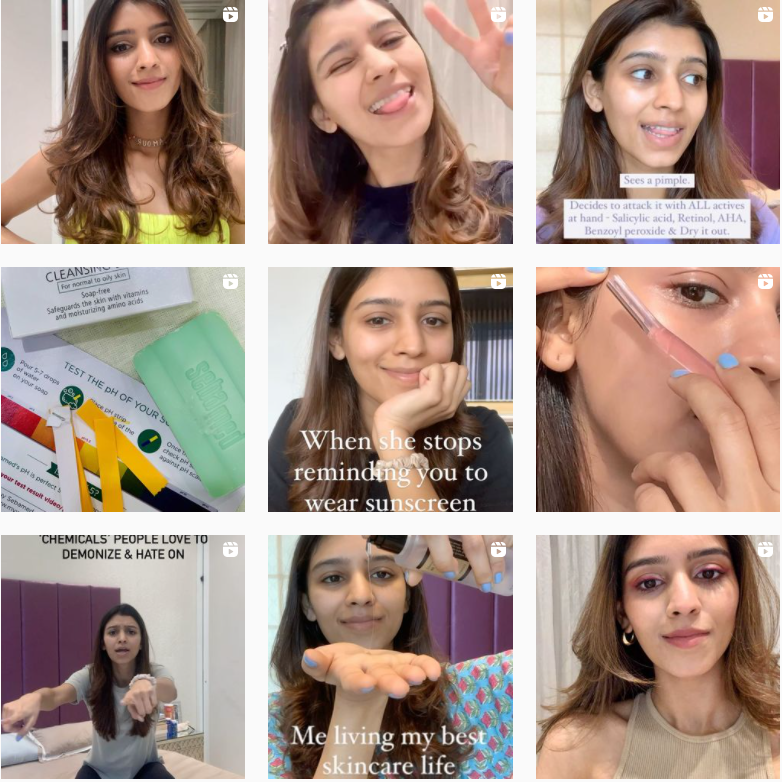 It is always helpful to choose your skincare products when you know somebody has already used ti and has found them to be helpful. So to give you some honest reviews about skincare products, you need Ria Biyani in your life. Give her Instagram rithink_skin a follow and you will know what we are talking about. She uses that really work for her but she also tries to help her followers understand what products can suit them the best and what to look for in a skincare product.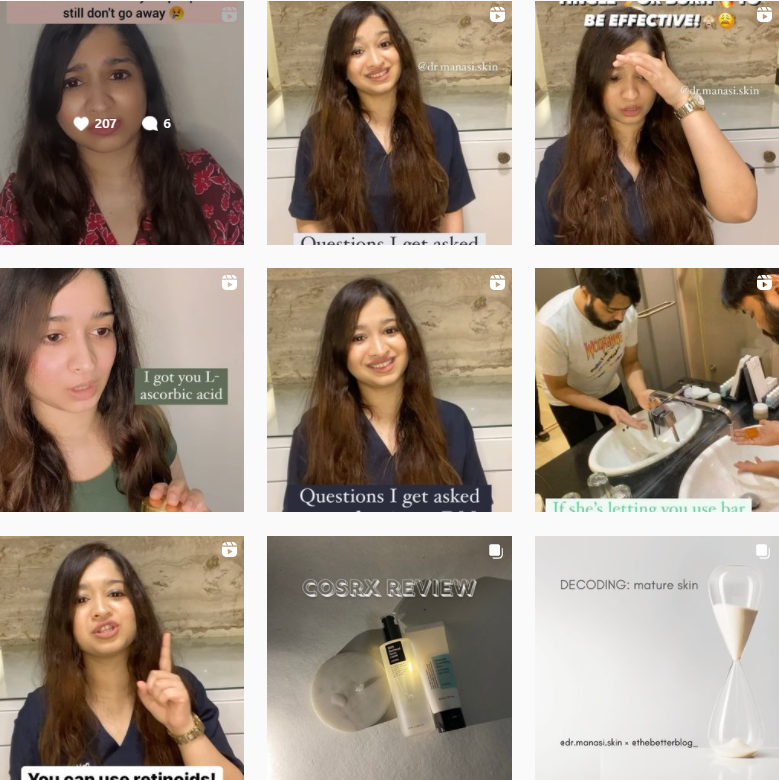 Dr. Manasi is a certified dermatologist who talks about the science behind many skincare routines and products. It is always helpful to have a dermatologist of your own. But if you don't, you can start receiving some honest opinions about skincare for her. She shares her patient's experiences too for her followers to understand the results better. She talks about various treatments in her posts and breaks down their uses for anybody who wants to understand them in layman's terms.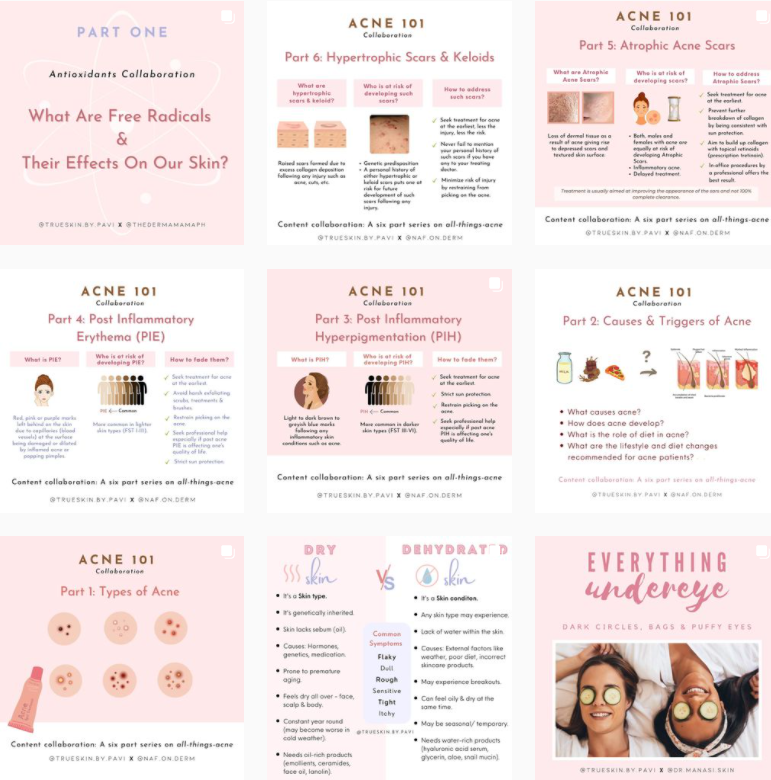 Did you know that acne is of different types and they have various reasons for why they occur? You probably already knew it. What you didn't know is that you know more about it in detail from the expert herself, Dr.Pavitra. Her Instagram page trueskin.by.pavi can be your virtual skincare class, once you give her a follow. To know about skincare it is important to understand your skin and your concerts. Dr. Pavitra ensures to give you the best knowledge possible in that matter.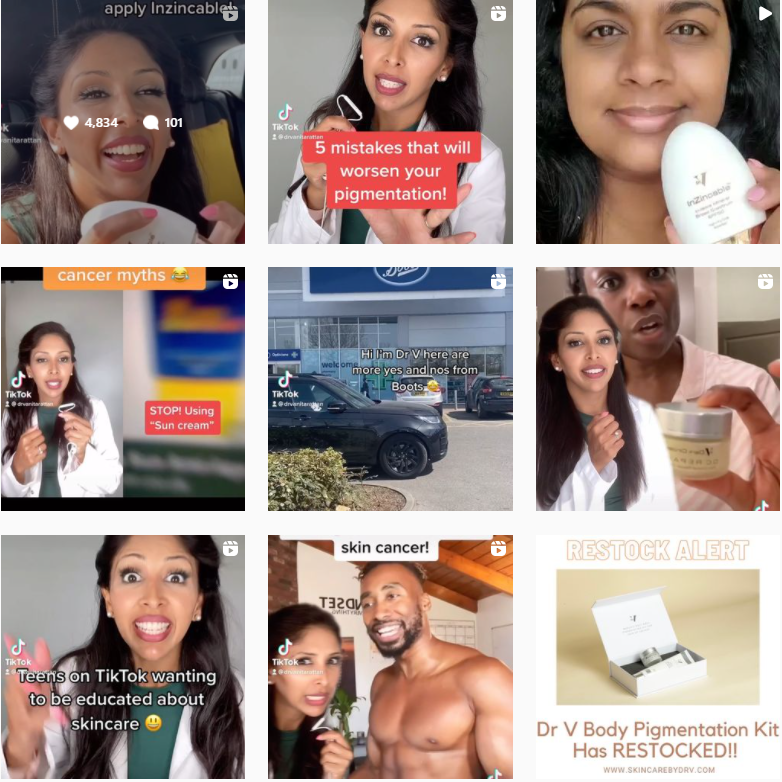 Skincare products recommendations, reviews, medical knowledge, all are available in the same place at skincarebydrv. We all have seen how some brands often portray their products in unrealistic manners. Dr. Vanita can help you see through it and only go for products that are genuinely healthy for your skin. 
One thing that remains common amongst these top skincare and beauty influencers is that they are here to purely advocate the idea of healthy skin and not bring anyone down. They help you understand skincare better and to love your skin for how it is. To not want to change yourself is an important lesson on skincare and beauty. So let's stick by that mantra with these best influencers in the skincare niche.