These Indian Couple Influencers on Instagram Will Win Your Heart
As it is rightfully said, two's a company three's a… Well, we don't need to go down that road because we have found you the best 'companies'. So, couple influencers on Instagram are a thing now, and might we add, this has been an excellent addition to the types of influencers. They often say that opposites attract. But in the world of influencer marketing, we say, opposites 'collaborate'. Okay we just made that up, but you get the point, right? These couple influencers are very diverse as duos as well as individuals.
There's so much to be in awe of about these Indian couple influencers. For us, what tops is their chemistry and collaborative creativity. Check out these power-packed duos so we can altogether be amazed.
What do you get when you combine wit-wordplay with madcap comedy? You get the dynamic duo of Kusha Kapila and Zorawar Ahluwalia. Kusha started her journey way before her husband and has been a comedy influencer for many years now. She is also an influencer that made it to OTT platforms. She and her husband, Zorawar's shenanigans have always been a part of her Instagram and now, their combined comedy and scintillating content have been winning the hearts of their fans.
Formidable fashion sense, zestful energy with colors more than the world is ready for, sprinkled with an undying love for Bollywood, is the secret recipe of Komal Pandey and Siddharth Batra's revolutionary fashion content. and their love for Bollywood, is the recipe for this couple's revolutionary. Komal Pandey started her career as a fashion influencer and a YouTuber. Batra, one of the top men's fashion influencers in India has had a similar career streak. And now that these connoisseurs of fashion are a couple tied by their love for each other and fashion, they are the GOATs of this niche on Instagram.
Wouldn't it be nice to have a dance partner for life? While for most it's only a far-fetched dream Anoosha and Saurabh are out here living it. This dynamic duo thumps to every trending beat and is a delight for sore eyes. Their fun choreographies and visuals will have you watch their Instagram Reels over and over again.
With Pride, we bring you the next couple, Pritam and Manish, LGBTQ influencers and YouTubers. Couples bring out the best in each other and couples like them bring out the best content that you are going to be hooked on. Their YouTube channel is like a compilation of video diaries of their endearing banter that also gives an insight into the lesser-known dynamics of queer relationships.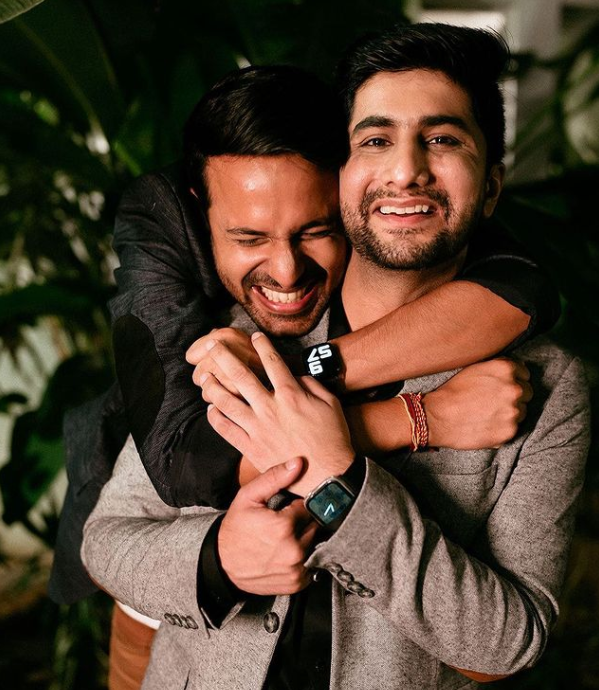 For all the podcast lover out there, you are going to love Yogi and Kabeer. They are podcast influencers who address and discuss many notions related to this minority community of LGBTQ in their show named 'Shuddh Desi Gay'. You can binge listen to all the episodes and at the end of it your heart will be full with adore for this beautiful couple and the community.